29th August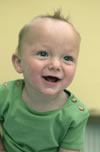 Now ten months old - and almost half of those now spent at home - Freddy has got himself a tooth! Arthur kindly came along with his camera just to make sure. As you can see, Freddy is very pleased with it, and though he has only the one, it is absurdly sharp and most effective at shredding anything
within reach.

Freddy can sit up by himself, and if he only knew it could also probably crawl by now, as he has a knack of squirming from one place to another when no one's looking. For the time being, he gives his mother something of a hard time complaining about his lack of mobility and all those other frustrating things that he would like to be able to say and do.
Freddy 's Christening is in just a fortnight's time (14th Sept), so that is an excuse for a party and we greatly look forward to seeing you there!
Love James, Fiona and Freddy

| | | |
| --- | --- | --- |
| | | |
| | | |
| | | |