June 11th 2002 -3 months at home.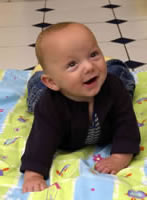 Well - Freddy's been home three months now and certainly knows how to assert himself. He now weighs about 20 lbs and expects to be carried everywhere. He is becoming used to getting things his own way. He has even been to France on a booze cruise with his mother and grandmother (leaving the father to toil) and won everyone over in the restaurants. He is pretty co-operative about sleeping hours but still enjoys a bit of pre-dawn crowing and of course, blowing raspberries, his favourite, and frankly very uninteresting, new noise.
Arthur came along and took some more snaps. He either caught Freddy in a good mood or else has a good repertoire of jokes. Freddy was delighted as you can see.
Do please come and see us while the coast is clear!
Love from Fiona, James & Freddy


June 11th 2002 -- click to enlarge.
| | | |
| --- | --- | --- |
| | | |
| | | |
| | | |