March 11th 2002 - Home at last!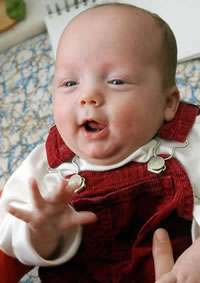 After 158 days, and a record number of 'sleep studies,' Freddy finally managed to convince the experts that an operation or a longer spell in hospital were no longer necessary. At last the time had come to say farewell to all those wonderful friends (both at C & W and Kingston hospitals) who have looked after him and all his paraphernalia so well and for such a long time. He really had become such a big fat cuckoo in the nest that he left a sizeable amount of bed space behind him for younger smaller people to occupy.
Freddy comes home with an impressive medicine chest and a wedge-shaped bed with 35' slope to which he has to be strapped in, and seems to thrive on both. He has found much to chuckle about, either catching some of the thrill off his parents, or perhaps noticing the cracks and cobwebs and the way the garden now grows in through the walls (in truth, he went a bit quiet once his father gave him the full tour).
We had been forewarned that Freddy would probably be unsettled for the first couple of days, but he has found most of it a huge joke. The screams and yells are mostly due to having to adjust from the hospital clock of 24-hour permanent activity to ordinary domestic night and day. The one thing he finds a major disappointment is the lack of entertainment - preferably double-bill comedy from hospital staff - that he is so used to enjoying from anyone within hailing distance at 4.30 am.
Arthur Edwards has been our first visitor, taking tea and some more photographs to mark the occasion. After some persuasion, Freddy and weary-looking parents obliged with a few smiles. Uncle Rex has kindly added them to the rogue's gallery.
We suddenly seem to have become a bit house-bound. So do please come and see us soon. And thank you all for your wonderful kindnesses and support which have helped us so much in getting through.
Love from Fiona, James & Freddy


Pics from 11th March:
click to enlarge.